Election Public Holidays : 18 and 19 November 2022
The caretaker Prime Minister of Malaysia, Dato' Sri Ismail Sabri bin Yaakob  has announced that 18 and 19 November 2022 are declared public holidays under Section 8 of the Holidays Act 1951. This is to encourage and facilitate Malaysians to vote for their government in the upcoming General Election.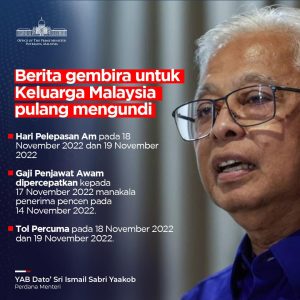 Employers are to observe the following:-
Section 8 of the Holidays Act 1951 shall be observed as a paid holiday;
The holiday will be in addition to the eleven (11) gazette public holidays in accordance with Section 60D(1) of the Employment Act;
The holidays will only be applicable to Peninsular Malaysia and Federal Territory of Labuan;
Employer can substitute the said holidays with other days;
If 18 or 19 November 2022 (Friday or Saturday) is a rest day for some states, the following working day, 20 November 2022 (Sunday) will be a substitution for the public holiday;
Due consideration on time off must be given to employee who wishes to vote on 19 November 2022.
In respect of employees under First Schedule of the Employment Act, Employers are to comply with the holiday pay and overtime rates stated under Section 60D(3) of the Employment Act, i.e. 2 times the ordinary rate of pay and 3 times for overtime.
In respect of employees outside the scope of First Schedule of the Employment Act, employers and employees shall observe their own contract of service.
---
ANC Group – Your Personal Finance Advisor
The foundation of all our endeavours is demonstrated by the following strategic priorities:
Commit to providing excellent financial accounting service;
Continuously improve service quality and meet the ever-increasing client demands;
Promote accounting competency and professionalism, and motivate our people, who are the core of our service quality, to achieve excellence;
Continuously deliver updated accounting and taxation information via our newsletters – Taxletter;
Retain and retrain employees with Business Infrastructure Platform (BIP);
Annual tax sharing to bring timely and efficient solutions to client issues; and
Invitation to our financial workshop sharing and business networking sessions.